The Porch Party Mamas

are an engaging and magnetic Boston-area band of four female musicians who've developed a fun and moving unique blend of folk, country, Celtic, and blues repertoire. They play beautiful arrangements of lovely and whimsical songs featuring dynamic lead vocals and lush harmonies backed by virtuosic guitar, fiddle, accordion, piano, percussion, banjo, and bass playing.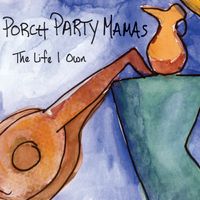 "The Life I Own" is the third and most ambitious CD to date from the Boston-based group, Porch Party Mamas. These dynamic singer-songwriters have delivered with this impressive body of work of beautifully crafted songs and moving performances. A lush palette of fiddle, accordion, piano, acoustic guitar, banjo, bass, percussion, distinct lead vocals, and tight harmonies combine to create a moving, playful, and deeply hued sonic portrait.
Our Song Ready To Love, recorded together-apart at our individual homes during 2021